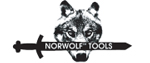 Since its beginning in 1995, Norwolf™ Tool Works has revolutionized the bolting industry in a variety of innovative ways.  We started by creating a flat torque multiplier that had not existed at all.  This "Missing Link®" torque multiplier is now a standard found at most wind sites worldwide as well as many other industrial concerns.
After developing some sister products to the Missing Link, we engineered safe and easy to use hydraulic bolt tensioners.  The TCon™ bolt tensioner works in conjunction with any 10k psi hydraulic pump and fits in the same places as competitive tensioners that require 20k psi.  It is not only fast…but very SAFE!!!  It is extremely durable, almost to the point of being indestructible.
Following the TCon, Norwolf redesigned the bolt tension calibration system and created the Calibore®.  This truly universal tool can calibrate all bolts using a variety of torque tools which include hydraulic torque wrenches and electric multipliers.  Its low weight and ease of use is unsurpassed in the industry.
Late in 2012 Norwolf took on the unique design challenges brought on by the newly developing US shale oil market.  The answer was the X-Driver® hydraulic torque wrench system which soon became the premier and most widely used hydraulic wrench in the major oil shale regions of North Dakota and South Texas.  With its wide variety of interchangeable drives, the X-Driver truly fits on ALL bolting applications.
We pride ourselves not only with our unique and patented bolting tools but also our abilities concerning special tools and accessories.  Norwolf is well known for its unique ability to manufacture custom solutions for virtually any bolting application.  Sometimes we accomplish this in a matter of hours at our state of the art manufacturing facility.
In addition to manufacturing bolting products Norwolf offers full service calibration, rental, and repair services.